comprehensive and professional strip out services
We take pride in offering comprehensive and professional strip out services that cater to your demolition and renovation needs. Our experienced team is equipped to handle strip outs of various scales, ensuring a seamless transformation of your space while adhering to industry best practices and safety standards.
Our strip out services reflect our commitment to excellence, safety, and client satisfaction. Contact us today to discuss your project and let us transform your space with professionalism and expertise.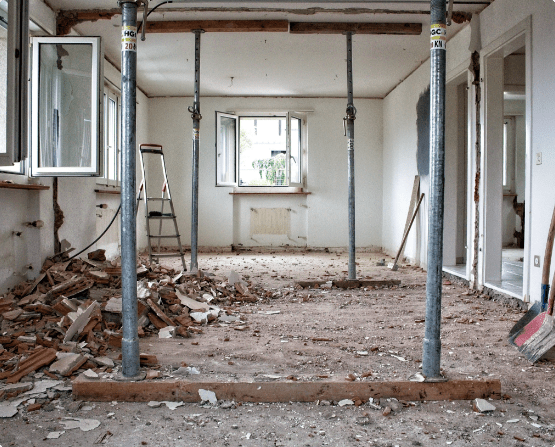 At Queensland Demolition & Remediation we offer a wide range of strip out services tailored to your specific requirements:
Commercial Strip Outs: Whether you're rebranding your business or revamping your office space, our team has the expertise to strip out all non-essential elements efficiently, leaving behind a clean slate for your commercial renovation.
Residential Strip Outs: Transform your home with ease. Our residential strip out services encompass kitchens, bathrooms, living areas, and more. We ensure minimal disruption and efficient removal, allowing you to proceed with your remodeling plans seamlessly.
Retail Strip Outs: Renovating a retail space requires precision and attention to detail. Our professionals understand the specific demands of retail environments and execute strip outs with minimal impact on your operations.
Site Assessment: We begin with a thorough assessment of the site to understand the scope of work and any potential challenges.
Customized Plan: Based on the assessment, we create a customized strip out plan that outlines the steps, timeline, and resources required.
Efficient Execution: Our skilled team executes the strip out plan with precision, utilizing the right tools and techniques for each element.
Waste Management: We responsibly manage waste by recycling materials whenever possible and disposing of any debris in an eco-friendly manner.
Final Check: After the strip out is complete, we conduct a final inspection to ensure everything is in order and the space is ready for the next phase of your project.
Experience
With years of experience in the demolition and construction industry, our team has honed its skills to perform strip outs with precision and efficiency.
Safety First
Safety is our top priority. We follow strict safety protocols during every strip out, ensuring the well-being of our team members, clients, and the environment.
Efficiency
We understand that time is valuable. Our streamlined processes and experienced team allow us to complete strip outs promptly, minimizing downtime for your project.
Environmental Responsibility
We prioritize sustainability by salvaging and recycling materials whenever possible. This approach not only reduces waste but also supports environmentally friendly practices.
Tailored Solutions
Every project is unique. We offer personalized strip out solutions that cater to your specific needs, ensuring your vision is realized.
Fill the form and write down your requirement in detail, our expert will be in touch with you shortly.