Your Trusted Partner For Expert House Demolition Services
We offer professional house demolition services in Queensland, Australia. Our experienced team ensures safe and efficient demolition for residential properties. Contact us today for reliable and affordable house demolition solutions.
If you're looking to demolish your residential property safely and efficiently, you've come to the right place. Our experienced team is committed to providing reliable and affordable house demolition solutions tailored to your needs. Whether you're a homeowner, real estate developer, or builder, we've got you covered.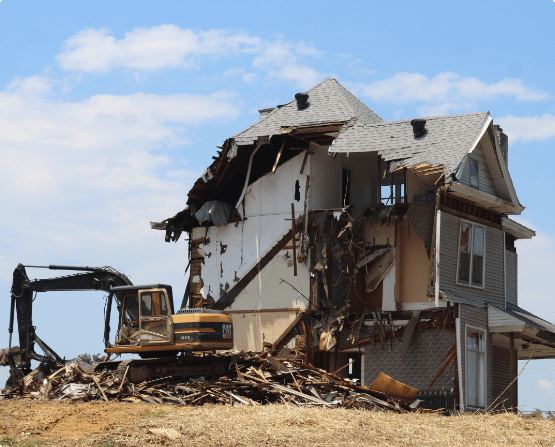 Our House Demolition Process
Initial Assessment
We begin by conducting a thorough assessment of your property to understand its unique requirements and potential challenges. This helps us develop a tailored demolition plan.
Obtaining Permits
Our team takes care of all necessary permits and approvals required for the demolition, ensuring a hassle-free process for you.
Safe Demolition Execution
With safety at the forefront, our skilled crew carries out the demolition using advanced equipment and techniques, minimizing any potential risks.
Waste Management and Recycling
We carefully manage debris and waste generated during the demolition process, recycling materials whenever possible to reduce our environmental impact.
Site Clearing
Once the demolition is complete, we ensure the site is thoroughly cleared, leaving it ready for your future construction plans.
Benefits of House Demolition
Space for New Projects: Demolishing old and dilapidated structures opens up space for new construction projects, allowing you to build your dream home or invest in profitable real estate ventures.
Property Value Enhancement: Removing outdated or unsafe structures can increase the overall value of your property, making it more attractive to potential buyers or tenants.
Safety Improvement: Demolishing unstable buildings eliminates safety hazards, preventing accidents and potential liabilities.
Modernization and Upgrades: House demolition gives you the opportunity to start fresh and implement modern design elements and energy-efficient features in your new construction.
Why Choose Our House Demolition Services
1. Safety First
At QLD Demolition, safety is our top priority. Our skilled team follows industry best practices to ensure a safe demolition process from start to finish, minimizing risks and adhering to all safety regulations.
2. Expert Demolition Team
Our team of demolition experts has extensive experience in handling a wide range of residential properties. From small cottages to large family homes, we have the expertise to deliver exceptional results.
3. State-of-the-Art Equipment
We employ the latest demolition equipment and technologies, allowing us to complete projects efficiently and with minimal disruption to the surrounding environment.
4. Environmental Responsibility
As a responsible demolition company, we prioritize eco-friendly practices. We recycle and salvage materials wherever possible, reducing landfill waste and promoting sustainable demolition methods.
5. Comprehensive Demolition Solutions
Our services go beyond just tearing down structures. We handle all necessary permits, site preparation, debris removal, and ensure a smooth demolition process from start to finish.
Fill the form and write down your requirement in detail, our expert will be in touch with you shortly.